Robotcloud
… is a provider of AI-based and modular software solutions for complex motion and handling processes
We enable users to efficiently perform typical tasks by using robotics and automation in industrial production environments and significantly reduce implementation times of cooperative robots.
With our solutions, e.g. autonomous object recognition or autonomous planning of robot arm movements in the handling process are feasible.
Our Mission
We work on SMART AI MODULES

Enable autonomous and collision-free robot arm movement and detection of object positions and possible grip points, among other things.

We rely on OPEN INTERFACES

Open interfaces ensure future viability and independence for customers

We allow MAXIMUM HARDWARE FREEDOM

By licensing our solutions, we enable our customers to act hardware-independently.
Modular Solutions
Our modules consist of skills that complete a sub-process
For example, the "object recognition" module provides intelligent 3D CAD matching. Different modules combined result in an overall solution in the form of a closed process flow. This enables NO-CODE TEACHING of the respective processes.
Pick&Pack
Our Solution Pick&Pack includes the modules for the recognition of parts by means of 3D CAD matching, the recognition of the storage boxes and the autonomous, collision-free path planning for storage in the boxes depending on the position and box type.
Our modules
For each process requirement, we provide a suitable module to perform the task.
smart container detection
STATUS: FUNCTIONAL
Easy training of parts and deposit boxes by means of 3D camera on the robot.
smart environment modeling
STATUS: FUNCTIONAL
Easy training of environment by means of 3D camera on the robot or CAD data.
smart path pathplanning
STATUS: FUNCTIONAL
Autonomous collision-free path planning of parts and layers
smart object detection
STATUS: FUNCTIONAL
Based on CAD data, a 3D matching of the object is performed.
task & placement planner
STATUS: FUNCTIONAL
Task & Placement Planner: Easy definition of deposit patterns, layer structure, gripper change position.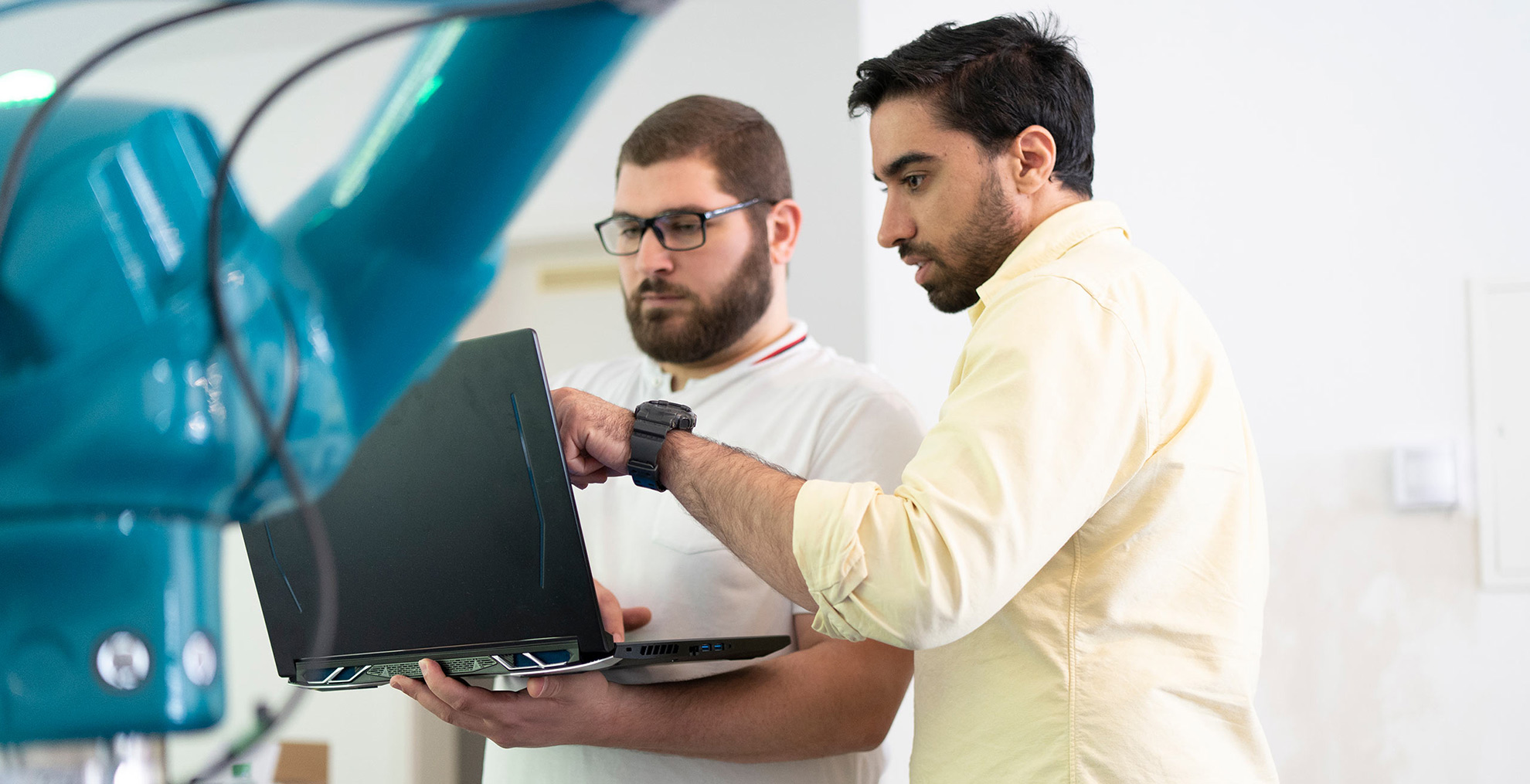 Future Solutions
Pick&Pack

STATUS: FUNCTIONAL
Module zur Erkennung von Teilen mittels 3D CAD Matching + Erkennen der Ablageboxen +autonome, kollisionsfreie Pfadplanung zur Ablage in den Boxen je nach Position und Boxentyp

Bin Pick&Place

STATUS: IN DEVELOPMENT
The process solution includes modules for AI-based recognition of object position and possible grip points, as well as collision-free path planning for gripping objects in the box

Assembly

STATUS: IN DEVELOPMENT
The focus here is on modules, e.g. for inserting and removing parts in finishing devices and machines, as well as for finishing steps such as gluing on or screwing.




Quality Control

STATUS: IN DEVELOPMENT
The solution includes modules for detecting deviations from the actual to the target state by comparing 3D data with reference data (for e.g. incorrectly manufactured molds) or for comparing 2D data for unwanted deviations in coloration (e.g. streaks) or defects in surface structure (e.g. scratch detection)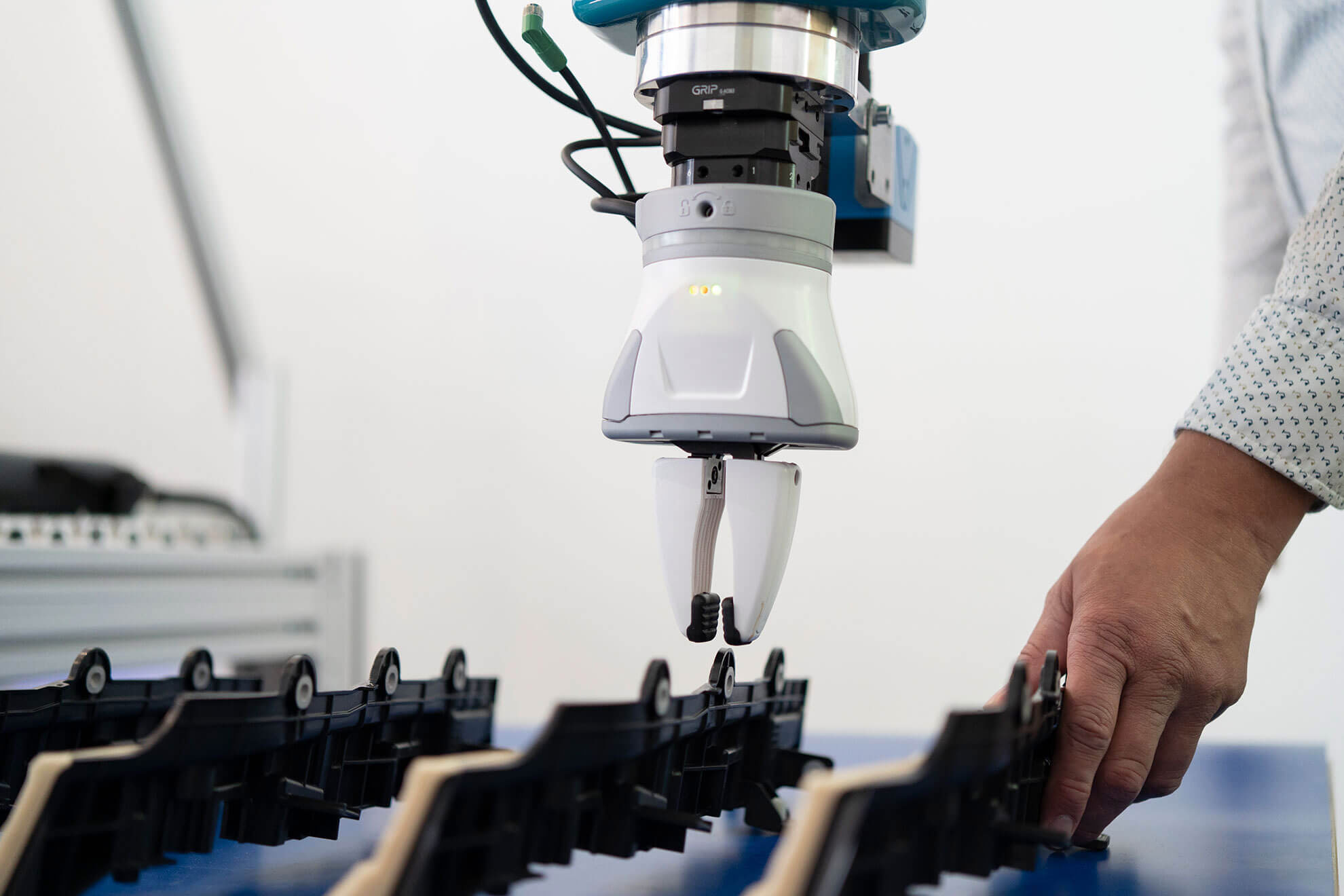 Your Hyper Advantage
Key benefits of our modular, cloud-based NO-CODE TEACHING solutions for industrial robotics are:
less
highly skilled workers needed

Contrary to the conventional state, where multiple highly skilled programmers were needed for robotics, vision and safety only one employee with process knowledge is required. This reduces the set-up time significantly.

reduced set-up time

Manual programming of the handle, path and deposit points are extremely time and cost consuming. Using our autonomous modules for detection, path planning and deposit situations saves you an enormous amount of time and money.

fast adaption and integration

Our modular solutions allow you to integrate robotics quickly and adapt it to new tasks smoothly. This saves time and money.
development partners
A great idea needs strong partners. Robotcloud cooperates with the following manufacturers, system integrators and institutions.
Jugard & Kuenstner
Automation – Artificial Intelligence

Roboception GmbH – Sense. Reason. Act.

J. Schmalz GmbH
Vacuum technology
Sick – Photoelectric sensors

Yaskawa – Your 1st choice for automation

ZIVID – 3D machine vision color cameras

Get in Touch
Join

No AI without human intelligence. Work on our Hypersmart vision!

Experience

Discover how we unleash new productivity in your environment